Kudos to everyone who submitted questions for the legal Ask Call with Attorney Kyle-Beth Hilfer – what a great call – I learned a lot! Tons of food for thought and ideas to grow and protect your business.
Since this was Kyle-Beth's third call the audio is available to purchase for $20 thru April 3rd and then goes to $30 after that. Well worth the knowledge and it helps compensate regular guests for their time and expertise.
---
Topics covered on the call:
The importance of "why" and how that might relate to various questions I've seen online about licensing negotiations and royalty audits.
Can an artist learn to do their own contracts and where do they get their first contract?
When registering copyrights, what is considered "published work"?
Do you have to copyright every color way of the same pattern?
Does the number of images in a copyright registration affect compensation if there is an infringement?
What is involved in registering a trademark and how long does it take?
Can you use other's art (cartoons for example, Batman, Minions, etc) if you are only doing individual pieces of art for sale and not mass producing or is that a copyright infringement?
What is the difference between a brand and a property?
Will allowing non-profits to use art for t-shirts affect other licensing deals?
Is it illegal to use images of celebrities in your work for licensing?
---
Some links Kyle-Beth mentioned on the call to learn more about contracts from her blog:
Art Licensing: Key Legal Terms from the Artist's Perspective

Art Licensing: Key Legal Terms from the Manufacturer's Perspective
Evaluating Art Licenses: How to Tell if You Have a Good Deal
Book recommendation:
Getting to Yes [affiliate link]
---
Where to find Kyle-Beth Hilfer
Learn more about Ms. Hilfer at www.kbhilferlaw.com,
or follow her on Twitter @kbhilferlaw
or Linkedin at http://www.linkedin.com/in/kylebethhilfer.
Note: Attorney Advertising. This call will provide resource information and is not intended to establish an attorney-client relationship. Prior results do not guarantee a similar outcome.
---
Next Up… Paul Brent with his annual SURTEX Trend Review and question session
Mark your calendars for Wednesday, May 28, 2014 and submit your questions at www.AskAboutArtLicensing.com
I've been practicing saying "NO" recently so I can say "YES" to what I am focused on and so I don't over-extend myself and stress myself out.
Writing a recent email with the "no" was uncomfortable, but better than all the work, etc if I had said "yes".
Much of the NO was based on a bad contract… words like "irrevocable" and "unconditional" are huge red flags.  You never know what direction you or another company might go moving forward and if you suddenly become very unaligned for one reason or another, there is no way to re-negotiate or change things when the contract has that sort of language.
Another piece of the contract issue was the "what happens in case of breach"… I had no rights or recourse, they would be "entitled to whatever injunctive or equitable relief they deemed appropriate" – what does THAT mean?  It could mean anything really!
So what do you do in this sort of situation?  Do you walk away, discuss, negotiate, stomp your feet at the inequality of it all?
Any of the above really – you can be presented with any kind of contract someone wants to create – it is up to YOU to decide if it is in your best interests to sign it.
In this case, I chose to walk away.  The potential up-side for me for going through with the deal wasn't big and my schedule is tight in the next few months.  I have a vacation coming up (YEAH!) and SURTEX is less than 100 days away.  My YES's need to be aligned with me keeping sane and getting ready for my biggest trade show of the year.  Reduce distractions.
If the deal had been for something that could have had good long-term benefits in the way of income, exposure and more – a conversation about the contract would have been merited.  I thought about it, made a decision, waited 24 hours to make sure I still liked my decision, then sent the email.  Done.  No more energy distracting me from my focus…
I know I've talked about saying NO to things so you can say YES to others before but thought this was a very real and concrete example of it in action!
Think before you say YES.  Be deliberate in how you spend your time and energy and you will be amazed at how much more you will accomplish and how much happier and lighter you will feel!
Here's to your creative success!
– Tara Reed
P.S.  Here are two books that I recommend related to this conversation:
Now that we've come down from the after-glow of the Ask Ronnie Walter call, it's time to look ahead to our next guest.  Attorney Kyle-Beth Hilfer will be joining us again to answer your legal questions on Wednesday, March 19, 2014.  (Mark your calendar!)
WHAT DO YOU WANT TO KNOW?
Do you have questions about contracts?  What to do if you see someone using your art online?  How to respond if you are accused of copying someone else? Trademarks? Copyrights?
Please enter your questions as soon as you think of them – either here or at www.AskAboutArtLicensing.com.  Getting some in a few weeks in advance lets us get a feel for how much begging and pleading will need to happen later… have to put it in my schedule if need be!
 Actually I think 2014 is going to be the year of no begging – you all did a great job giving us content for Ronnie so I see no reason for that to change!
If you can't make it live, the audio replay will be available for sale for $20 for a limited time after the call and then go to the normal replay price of $30.  We appreciate your support in buying the replays that are for sale – it helps give experts who return more than once some "Starbucks money" for their time and also helps offset some of the costs of putting these calls on.  :)
Here's to your creative – and legally protected – success!
– Tara Reed
Maria Brophy and I are thrilled that our eBook and Maria's templates are making this part of the business more understandable and easier to do.
Here is an email we got the other day about the eBook How to Understand Art Licensing Contracts and The Artist's Short License Agreement Template Package:
---
I just sent off my first contract using one of Maria's templates and I was so glad to have them!  Up until this point I had been provided with contracts from the Licensees I've worked with, so when I was asked to provide my own, I was able to avoid that deer in headlights feeling!  It was comforting to know there was language covering all the major points of a basic agreement and it was so easy to use.  It was far less intimidating to go through each of the sections, making sure they fit my needs, than trying to come up with something from the ground up.  I loved that all the fields were called out in red, and in some cases, I realized I didn't have the information to fill them in, prompting me to go back to the manufacturer for clarification.  I have found your ebook "How To Understand Art Licensing Contracts" to be an invaluable reference and Maria's templates are the perfect compliment.  Thank you for all you both do to educate artists about this industry; it has helped pursue a career in something I'm not sure I would have had the confidence to do otherwise!
Thank You SO MUCH Again!
-Nicole Tamarin
www.NicoleTamarin.com
---
Thank YOU Nicole for your feedback!
If you want to better understand art licensing contracts, go to www.ArtLicensingInfo.com/contract.html to learn more about these resources.
Here's to your creative success!
– Tara Reed
Question:  If I have designs that I would like to try and get licensed, is it a good or bad idea to share those on sites like Spoonflower?
In my opinion:  As long as you read the terms of use and the site isn't saying that they own the art, or have any re-publication rights that can't be revoked, etc. I think it's a neutral to good thing.
Don't just click "accept" on sites where you are showing art you might want to license – READ THE TERMS like they are a contract!
I say that because I am very guilty of doing just that with certain things.  Like software that I have purchased and know I need, that has me re-commit to the terms while upgrading… I will admit to not reading all of those.
 But if you are using a site to show your art – in the hopes of getting sales or getting noticed (it happens!  I, too, have read the blog posts about artists being discovered on Etsy or Spoonflower and the like) – read the terms.
You want to make sure you aren't giving up any rights that could make it impossible to license the art later, or that you wouldn't get back if you remove the art from the site.
For example (and I'm making this up just to give you an example) – say you upload art to show how it looks on a coffee mug.  The mug can even be purchased if someone finds it and loves your design.  Now let's say you connect with a manufacturer who makes and sells mugs on a large scale and they want to license that very same art.  You want to be able to do it.
So you want to ensure that there is no language like "XYZ website has the right to sell any art uploaded for a specific product in perpetuity…"  In perpetuity means they can ALWAYS AND FOREVER use that art to sell coffee mugs.  That would be fine if the manufacturer you are now talking to doesn't want an exclusive license (meaning they want to be the only people to sell that art on coffee mugs.)  95 times out of a 100 they do… so you want to make sure there is always a way to get the rights back, or later modify any agreement that you have with a company online.
I know contracts (and terms of use – which is a contract) are not most artist's favorite things to think about, but they are a big part of your business if you are in the art licensing industry.  Make friends with contracts.  Understand the basic terms and what different things can mean to your rights and your business down the road.
Here's to your creative success – I hope I get to read YOUR story of being found on Spoonflower and the like one day too!
– Tara Reed
One of the questions that came in a little late for the Ask Lilla Rogers call last week was this…
I recently was asked by an apparel company to let them use my art for a mock-up. They wanted to approach big box stores for a new bedding line they were producing. They only offered me compensation IF the deal went through. Still waiting, although i did see the mock-ups by a legit designer. The process began in March and is still on-going. So far, no licensing deal for my art which was used in the mock-ups by their graphic designer. My question is: Does this sound legitimate?
Different artists have different opinions on letting manufacturers "shop" their art.  If that doesn't make complete sense, it basically means they want to mock-up your art on products (digitally or physically) and show it to their larger clients.  They don't want to commit to the art until they know it will sell.
This is becoming more and more common in the marketplace, especially if your art fits in the mass market channel (selling into large retailers with many, many locations – like Target, Bed, Bath & Beyond, WalMart, department stores and more…)
Personally, I do let manufacturers shop my art.  Sometimes it lands me a great license, other times it isn't selected.
I don't, however, let companies I have never worked with before shop my art without understanding what the deal will be if the art is selected – this is KEY!
You can use a Deal Memo format that Maria Brophy has been kind enough to blog about (it is also discussed in greater detail in How to Understand Art Licensing Contracts and is included as one of the templates in The Artist's Short License Agreement Template Package.  You can learn more about both of these at www.ArtLicensingInfo.com/contract.html)
Or you can simply ask the questions and keep notes – or preferably have the answers in writing – by email, etc.  The key things to know before letting a company "shop" your art include:
What retailer(s) are they showing the art to and for what products?
When do they expect to have a decision?  (As in, how long will your art be on hold and unavailable for those products for other deals)
What royalty rate, term, and territory will be on the contract if your art is selected?
Will there be an advance if your art is selected?
I also want to review their basic contract – or know that they will work from mine with the above terms – before going forward as well.
It would be horrible to have your art selected and then be unable to agree to the terms of the deal.  You won't win points with the manufacturer and will probably burn the bridge to work with them again in the future.  The retailer won't be pleased and you will have wasted time and energy on the process.
So make sure you know what the terms of the license will look like up front before you let your art get shopped around.
Here's to your success!
– Tara Reed
P.S.  Thank you Gloria for bringing up this issue – it is one many artists wonder about!
P.P.S.  Did you get your copy of the Ask Lilla Rogers call mp3?  IT'S FREE!!!
We had yet another home-run from Paul Brent. As I told him on the line last night, it is now his DUTY to do the Ask Call right after SURTEX because he does such a wonderful job with sharing his impressions of trends coming, trends going, new things, new artists and more.
We had 150 people listen live and now the replay is available for purchase. In addition to the hour-long mp3 audio file, you will also get Paul's notes about the show – I can assure you I wasn't able to be taking notes as fast as he was sharing info!
What we covered on the call…
SURTEX 2013 trend report – written notes from Paul are included with the purchase of the mp3 replay
Do you have to go to Surtex to get Licensing deals or can you contact individual companies directly?
The news reports that retail is picking up. Do you feel that was reflected in Surtex 2013?
How many new, unveiled collections, above and beyond your existing portfolio, do you show at SURTEX each year?
What is one barrier you have had to overcome in the licensing industry?
How does an artist judge that their portfolio is ready to take to Surtex, or to an agent?
How do you know you are ready to go to Surtex?
Is there any one type of style that MOST manufacturers are looking for?
The audio is on sale for $20 thru Thursday, June 13, 2013 and will then go to the regular replay price of $30 so order your copy now for the best deal.
Our next call is SOON – Wednesday, June 19th to be exact!
Agent Lilla Rogers will be making her "Ask Call Debut" -after visting wtih her at SURTEX I'm extra excited!  Please submit quesitons asap – we don't have a lot of turn-around time for this one!
NEW Contract Templates from Maria Brophy and distributed by ArtLicensingInfo.com
One other thing I mentioned on the call is a new resource for artists – The Artist's Short License Agreement Template Package by Maria Brophy.  It's a great compliment to the eBook, How to Understand Art Licensing Contracts and will save you time and money putting your own contracts, deal memos and amendments together.  See all the options for becoming a master at contracts at www.ArtLicensingInfo.com/contracts.html
… and how not to have your life consumed by this concern.
I've been licensing my art for 10 years now and I'd like to share a little secret – I'm still not always sure if I'm getting "a good deal".  Royalty rates and the ways companies work can vary by industry, by company and even by the artist a company is working with.  I'm pretty sure Mary Engelbreit gets a better royalty rate than I do…
The way I see it, "A good deal" all depends on who you are and what you want for yourself, your lifestyle and your business.
A good deal for one artist will look like a horrible deal to another.  But there have to be ways to quantify what "a good deal" is.
Attorney Kyle-Beth Hilfer just did a post entitled: Evaluating Art Licenses: How to Tell if You Have a Good Deal. She gives some great advice about what to look at and look for from a legal / contract perspective.
---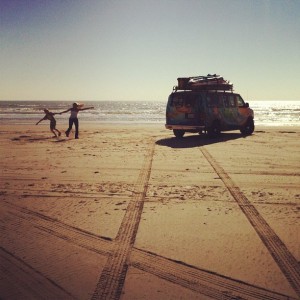 Maria Brophy blogs a lot about lifestyle – her recent post: How Taking an Adventure can grow your Business is a great example of what a "good deal" looks like to them.  A job where they got 2 weeks of vacation a year and were expected to report to a cubicle the rest of the time would be a horrible deal for both Drew and Maria.  But for others – it gives them the structure and consistency they need and they have no desire to go on 5 month adventures and work out of a black box.
---
A friend of mine – Steve Strauss, attorney turned entrepreneur and owner of TheSelfEmployed.com - recently went to Istanbul for a week with his wife.  He was hired to speak and MC for 2 days at an event for entrepreneurs.  In return, he and his wife were able to take an amazing trip!  To me that's a great deal (anyone want to fly me somewhere interesting???) but when I told another friend about it, she cringed and said the flight alone would make it pure torture.
---
Basically – there are parts of each deal that are subjective.  At the same time, it's important that you fully UNDERSTAND any deal you do – in terms of what it will mean to your business financially and from an art copyright standpoint, if nothing else.
Just some food for thought about deals.  Back to your creative work!
– Tara Reed
This is an interesting question and one I think deserves some conversation.
---
Here is the situation that was presented to me:
Here's my dilemma: I get a lot of interest in my work for possible "license" arrangements. I haven't closed any deals because I am thinking as an art director (X years experience commissioning art and negotiating terms). I think about the fees structure outlined in industry books like AIGA. ..and I take into account everything I read, follow, listen online.
Now I'm a licensee wannabee – I have missed out licensing art to several companies in a variety of categories around the world…
I believe I missed out because I must not answer their question correctly.
All of these initial enquiries had something in common: they were were vague about their business and yet got to the point about asking me "how much ".
I google them to find out who they are before asking for more info, territory, term…and would always include something to suggest that I would work with their budget. I would also ask if there was cross-promo op.
Yesterday I have a new email inquiry about exclusive right for x image for (product category).
What triggered me to ask for expert advice is, once again their opening email is sooo vague and I feel again like I'm asking "too many" questions.
Shouldn't they supply info like an introduction to who they are? (and maybe loose contract info) upfront?  That's what I do when I commission art/ design. That's what I get when a publisher/agency contracts my design. Why is "licensing" enquiries so cryptic? Is this too be expected?
I looked for this topic on your website. Maybe you know have a new topic to expand on. Tara, thank you for this.
Much appreciative.
(I left the artist's name out so it can't affect their business)
---
My response:
It sounds like you might be being approached by companies that don't do much licensing.  I've had that – have one at the moment – I keep explaining how it works and he keeps asking… pain in the neck.
My best advice is try to not feel bad about wanting to know who you are doing business with.  You need to understand who they are, where they sell etc to make sure it's a fit for both of you.  Sometimes artists are so eager to get a deal they feel like they should just be thankful – not true.  We are in business and we need to know what will be happening with our art.
That said, some of the fees/rates in the AIGA are higher than I'm seeing in the marketplace right now.  Decide how you want to do business and don't be afraid to walk away from a deal that feels weird or a company who won't tell you any details.  Some companies – especially if they aren't used to licensing – will ask for your rates.  Others will tell you theirs up front.  But you need to have that info before you send art or commit to working with someone -no blind business dates!
---
As artists we need to think like a business in situations like this and not feel like the other person holds all the cards.
You are in the business of creating art.  You get to decide if you license it, sell it, give it away or hoard it in a closet.  Just like you get to pick your friends, you get to pick your clients.  It's a really good idea to know who those clients are before becoming tied to them through a licensing agreement.
Is it always easy when you don't feel like the company is being forthcoming? No.
Is it always a comfortable process? No.
Is it necessary? Absolutely.  Both for your business and all the other artists trying to make a living.
SO… don't be afraid to ask questions so you understand who you are talking to, showing your art to and potentially working with.  You are an artist, you are in business, and you deserve to know.
Here's to your creative, empowered and informed success!
– Tara Reed
P.S.  Looking for more information and confidence when it comes to contracts and negotiating?  Check out How to Understand Art Licensing Contracts by Maria Brophy and myself.  I think EVERY artist exhibiting at SURTEX or the Licensing Expo should have the knowledge or have a copy and artists to the point of discussing terms should too.

Another great call took place by phone last night – were you one of the 96 artists who listened live?  This was the third time Maria Brophy and I tag-teamed the call – giving you both of our perspectives on some great questions submitted by artists like you.
Here is what we covered on the call:
How do I go from traditional artist to licensed?
What is the first, most effective, most cost efficient exercise I should do when just starting out wanting to license my artwork?
Where do I find Licensors interested in my art where I get paid versus getting an agent who I have to pay to locate one?
From your experience, can people find success in licensing doing it part time or is it almost always a full time endeavor?
Since I do not plan on having an agent, at what point do I need a licensing attorney?
How does one know when they are ready to exhibit at Surtex?
Discussion about creating collections & size of art…
What happens when another artist imitates an image with their own work, but obviously copying the original style?
---
 Some "tweet-worthy" comments we thought we'd share from the call -
"Know thyself, be yourself!" – Maria Brophy
"Art Licensing: learn & make art, but don't get stuck in analysis paralysis. At some point you need to jump in and take the leap!" – Tara Reed
"The Art Licensing Biz is like one big puzzle." – Maria Brophy  ("…and you don't have to do every piece of the puzzle yourself!" – Tara Reed's follow up!)
---
Some resources we discussed on the call –
Beginner Basics Teleseminar Replay – great way to see if the "art licensing lifestyle" is a fit for you
How to Understand Art Licensing Contracts – any artist really serious about licensing their art should understand contracts and be comfortable with the terminology, etc.
Also be sure to click the FAQ tab for answers to some of the most common questions about licensing.
Next up…
Ask About WordPress for Artists – Wednesday, March 20, 2013
Kim Beasley will be doing her second call about how artists can use WordPress for their website, social media integration and online portfolios.  If you have website or social media questions – Kim is your girl! Head to www.AskAboutWordPressForArtists.com when you are ready to submit your question.